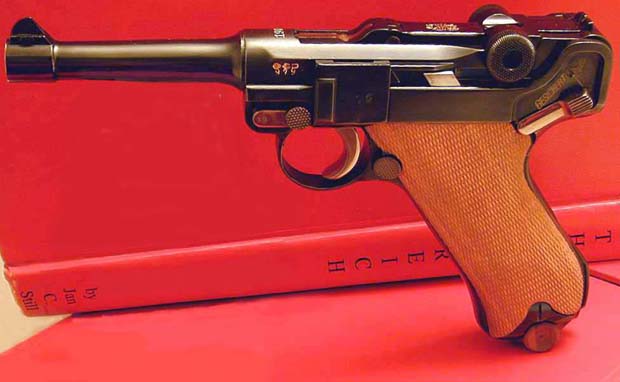 The Jewel
The Jewel is my first Luger. I bought it from AIM Surplus sight unseen for $375. I said I wasn't interested in an all matching for $450, (and that was before I knew they stamped them so they were all matching!) I knew absolutely nothing about Lugers (it could be argued I still don't), except that I had always wanted one. So I sent my money and they shipped what I affectionately dubbed "The Gypsy", because she had been around, and was very beat up and quite the worse for wear.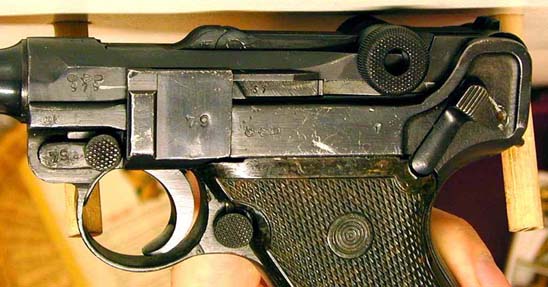 The Gypsy
As you can see, there were numerous dings, dents and scrapes. Although not visible from this angle the takedown lever was bent beyond repair. This Luger had started out life as a standard military issue 1918 DWM P.08, as evidenced by the proofs on the right side of the receiver.
At some point it was captured by the Russians, most likely after WW II, and was sent to East Germany. Here it received an East German rework, complete with a dip blue job, plastic grips and a brand spanking new barrel as evidenced by the Crown N proof firing mark on the barrel.

It also had a Crown U stamped after the rework by "VEB Ernst Thaelmann, Suhl", East Germany on the left side of the receiver. The "U" stands for "Untersuchung" or "inspection". Word is, that approximately 2000 Lugers were reworked in Suhl from 1953 through 1956.

Ultimately it wound up in the service of the East German Police (Volks Polizei or VOPO) as evidenced by the VOPO stamp (below) on the left receiver just above the takedown lever. Inspector "26" approved this weapon.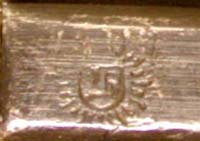 Due to the "sorry" external shape this pistol was in, but given the "wet glass" bore, I felt this was a prime candidate to be sent to Ted Green's Strawing Service to have the pistol reworked (yet again) and made into a "class act" shooter. The results speak for themselves. Ted's Total Doll Job has turned a badly beaten and worn 83 year old weapon, into a thing of beauty that is guaranteed to turn heads at the range. The grips are by Hugh Clark (I actually won them in one of the Luger Forum quizes), the magazine bottoms are by Gerry Tomek, and a new takedown lever was supplied by Tom Heller.

This pistol has seen a lot of service, WW I, WW II and finally the Volks Polizei. It has definitely paid its dues after 83 years of service. It is now deserving of not only its place in history, but a well deserved rest. It has been "prettied up" and will now be cared for and pampered, and given the respect and attention it has so clearly earned.

Dok
Photos Courtesy of Ted Green